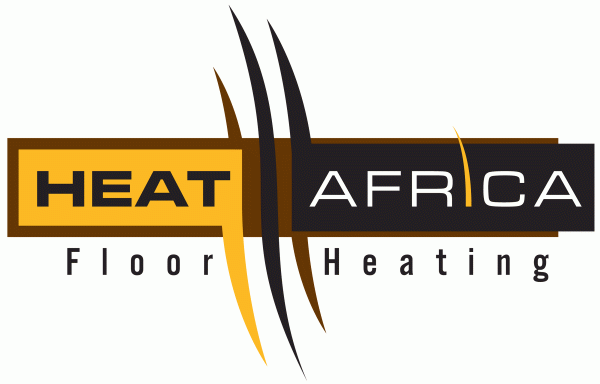 Heat Africa, established 1993,boasts with thousands of satisfied customers nationwide.
Exact Flooring received a lot of enquiries into UNDER FLOOR HEATNG - thus we got in the experts HEAT AFRICA - please read trough and ask questions
Manufactures, suppliers and installers of floor heating systems:
Under tile
Under carpet
Under screed
Under laminate wood.
Under novilon.
Under Wood Heating

Heat Africa's underlaminate heating system is 100% waterproof and tested under high standards. It consist of an earth shield or a metal shield and an aluminium based blanket. A variety of shapes and sizes are available to ensure maximum floor coverage. All heating units are reversible to ease the installation when approaching the connecting point.

Underlaminate heating units should cover approximately 80% or more of the available floor surface and can be installed under most laminate locking systems (please note laminate manufacturers specifications).
Between 6-12 mm thickness

HDF based (high density fibre)

Removable locking system

Join strength of 650 kg per linear metre

Minimum of 2-4 mm underlay (combilay)

Minimum 200 micron damp proof membrane
Installation Procedure
The underlaminate aluminium heating blankets are placed directly under the laminate floor, above the underlay (combilay). The floor sensor supplied with the thermostat must be placed under the heating panel 600 mm towards the inside of the unit. The floor sensor works in conjunction with the electronic thermostat and ensures a maximum floor
temperature of 27 C


More about Heat Africa
Our heating elements come with a 5-year factory backed warrantee, against manufacturing defects on all elements, and 2 years on thermostats.
We are proud of our manufacturing plant (factory) thats SABS ISO 9001:2000 rated. dated 19 January 2006(Certificate no: LS 3665)
All our elements are safety tested and fully waterproof, insulated with a E.T.F.E. (also called Teflon) outer jacket
Our elements comply with American Military Specifications. (Mil w 27759 D wire)
Test results, elements running @ 200C for 120 hours constantly.
A product complies with latest amended SANS regulations.
Heating conductors are imported from Europe, and our extrusion plant is based in S.A.
Heat Africa uses the latest technology available, all our conductors and thermostats are on European standards for the last 30 years.
Heating systems are cost effective and economical, controlled by a thermostat that monitors the heat, so that floor surfaces heats up rapidly where needed.
Heat Africa does not use any sub-contractors; highly trained staffs are dedicated to quick, clean and high standard installation procedures.
Heat Africa can do repairs on any heating system installed by any heating company, faults are found 90% of the time, and usually only one tile needs to be removed.
Monitors are available for tiling contractors, to monitor the heating elements while tiling commences.
D.I.Y. kits are available, as well as on site training for the handy man.
Heat Africa s personnel are dedicated to ensure client satisfaction at all times, and committed to after sales calls.
Agents are available country wide and growing year by year.
Reliable heating systems are designed, installed and commissioned, for each clients personal need, to insure lifetime durability at the lowest possible energy cost.
Goodbye dry warm air, experience comfortable warmth throughout your home.and adds value to your home.
Heat Africa is known as a reputable, well-established and marketed company, that is growing daily to comply to the latest technology available.
Mission statement
Offering the client quality service and quality floor heating products, combined with quality installations that insures client satisfaction at all times
Louis John Faul
082 893 3806
For more info please vist their web site www.heatafrica.co.za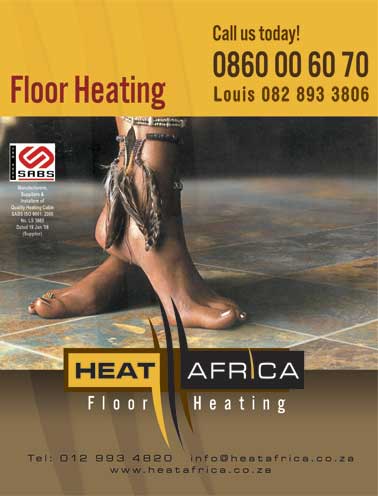 Were to would you like to go to next