Balterio Laminated Floors
Balterio Laminated Flooring
Inspirations FOR EVERY ROOM in your home – THE PERFECT MATCH
What does Balterio stand for?
Quality – Balterio believes in ultra-high quality material together with the best craftsmanship enabling the best produced laminated flooring to offer. This is why these floors are so idealistic to be used in commercial and domestic applications
Harmony with nature – A great character of Balterio is their believe in green forestry – every tree that has been felled, a new tree has been planted, ensuring a great future to come.
Simplicity , easy installation and maintenance – Balterio locking systems have been designed to make the installations quickly and less effort makes less time that the installation teams have to spend in your homes. The sealed surfaces ensure you spend less time cleaning
Style – you deserve various styles that you can choose from – this is exactly what Balterio laminated floors offers you – you can choose a highly durable laminated floor that you can choose that reflects your character the best.
The Products Offer
Wear resistance – Balterio Laminated floors have an aluminium Oxide wear surface on top making it very durable to walk on
Impact resistance – High quality High Density Fibre (HDF) boards are used to manufacture Balterio laminated floors making it impact resistant
Cigarette Proof – Balterio Laminated floors are manufactured in a heated fussing process – thus your fallen cigarette will have no effect to it
Dimensional Stability – Balterio high quality HDF boards ensure that your floor boards will not warp
Slip resistance – Balterio engineers have done research to improve the slip resistance on these floors
Embrace the Future are Balterio objective to combine ecological, social and economic interest in a profitable manner. This means reduce waist , recycle and re-use were possible
Balterio Laminate revolutionary locking systems – Click-X-press, Drop-X-press and Press-X-press makes their installation joints secure and ease of mind.
Balterio offers a huge range styles and effects for you the client to choose from
For more general information about all types of floors visit THE INFOMATION PAGE
Innovative techniques
Hand scraped effect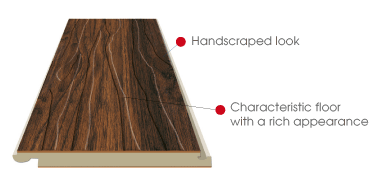 True to nature
Chrome Zone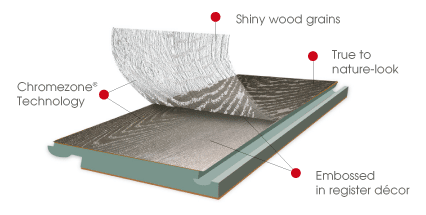 3D Wood effect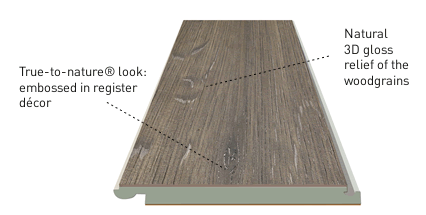 Different sizes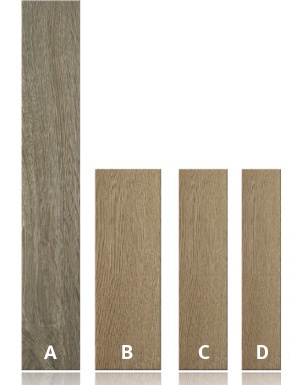 A - Extra Long & Wide Planks
B - Short & Wide Planks
C - Standard Size Planks
D - Narrow Size Planks
The different collections are
Grande
THE NATURAL-LOOKING FLOOR THAT IS ALSO WATER-REPELLENT
Product Overview
Balterio Grande Laminate is a very realistic laminated floor – it has been designed to be used in the complete home
The natural-looking floor that is water repellent – Because of the Hydro Shield protection no water can seep through the clicks and joints not even wet mopping can damage the floor panels - This makes Balterio Grande the ideal laminate floor for installing in living areas and bedrooms, right through to the kitchen and bathroom.
True to Nature surface effect and 2 sided V-groove makes this floor ultra-realistic looking floor because of the following factors
Ultra-high definition laminate radiates precision, contrast and depth. Every knot and wood grain is rich and vibrant. Laminate flooring has never been so vivid and realistic.
Natural variety-Each laminate plank is unique, just as it would be in nature, so there's no repetition in a floor of 10 m2. Combine 2 different plank widths to create a 100% natural impression.
Balterio offers 25 year domestic and 12 year commercial warranties on this floor
AC4 / 32
9mm
V2 groove
25 year residential guarantee
12 year commercial guarantee
Water Repellent - Hydro Shield protection
Ultra-Realistic Laminated Floors
Extra-long planks - Two plank widths:
LONG & WIDE - 9 mm , 2050 x 240 mm ,6 PLANKS/PACK , 2,9520 m²
LONG & NARROW 9 mm, 2050mm x 167 mm, 6 PLANKS/PACK, 2,0541m²

For more information on these produces view on line
Balterio Vitality Deluxe
A mix of modern & classic decors - Modern and classic decors, perfect for residential or medium commercial applications.
Product Overview
Classic planks style
AC4 / 32
8mm
V4 groove
20 year residential guarantee
7 year commercial guarantee
Panel Sizes1261 x 190.5 x 8mm
2.162sq per Box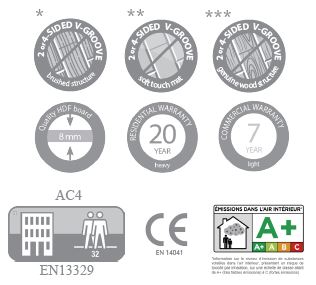 Impression
In a normal size length laminated floor board and extra width Balterio has created a winning formula. The Laminated floor boards have a 2 sided V-groove, together the Panoramic natural brushed design structure creates an eternity effect in your home / office. Balterio offers a 25 year domestic and 12 year commercial warranties on this floor. To have some of Exact Flooring floors installed please visit our GALLERY

Product Overview
AC4 / 32
8mm
V2 grove
25 year residential guarantee
12 year commercial guarantee
Wide body
1261mm x 244mm x 8mm
2.4615 sq per box
.

These are only a few of the different collections that are available to you.WANT TO LOOK AT MORE PRODUCTS
Would you like to make contact with a CONSULTANT - SEND US AN EMAIL?
Were to would you like to go to next